Tio University
Social intranet
For the country's leading educational institute for tourism, business and management, we created a social intranet platform that transforms their large population of alumni into a worldwide network of professionals.
Strategy
Design
Development
Tio offers personalised, accelerated, advanced education in tourism, business and management and has been a distinguished name for many years as a recognized educational institution. Tio's bachelor programmes have been considered among the best in the Netherlands for years and are ranked #1 in a number of official rankings.
With a student population of around 2000 and a history dating back to the 1960s, Tio has an enormous population of alumni, literally living and working in all corners of the world. We were asked to come up with a solution that lets Tio's alumni tap into the enormous potential of this international network of professionals in tourism and management.
Image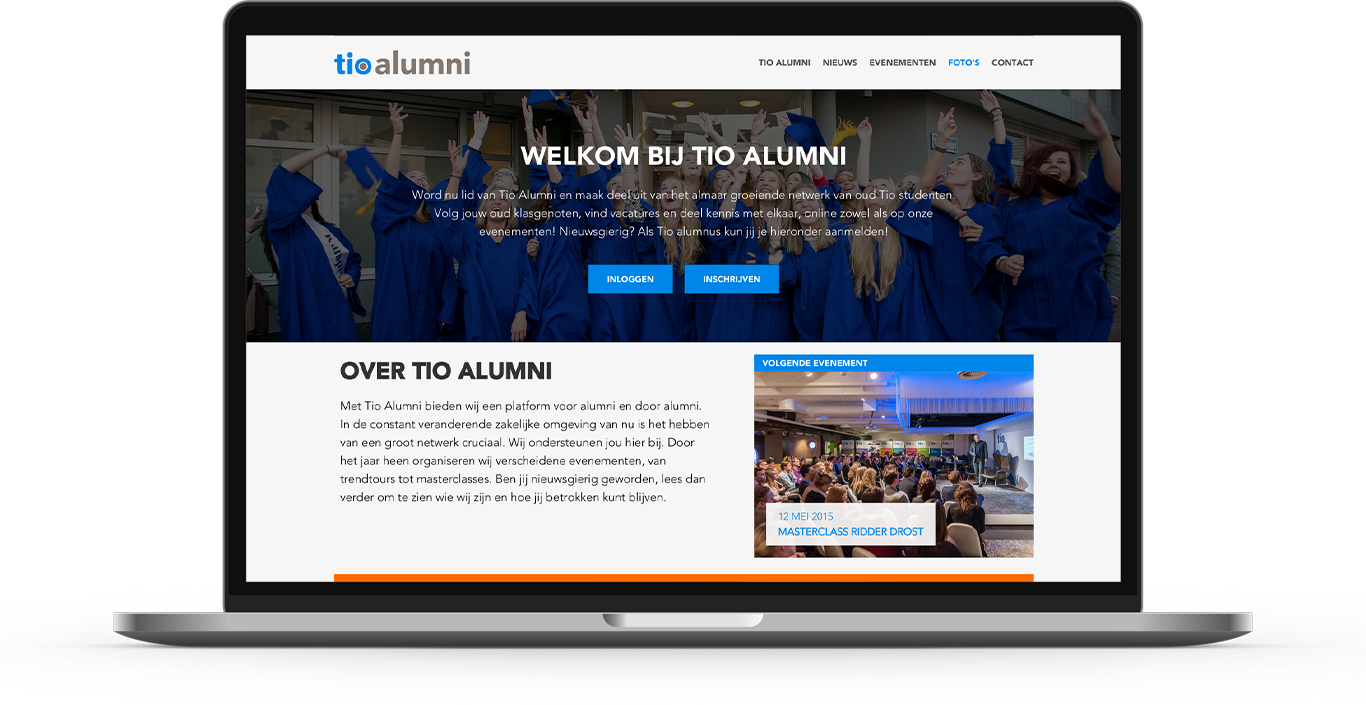 Connecting talent
With a public front-facing homepage, the platform aims to recruit unregistered alumni to join an online network where they can (re)connect with a global network of professionals.
Social intranet
This platform belongs as much to the alumni as it does to Tio University. Alumni can share content, photo's and status updates in their activity feed to let other alumni know what's up. They can follow, befriend and message other alumni as they please.
Events
Platform editors are able to create events and share them with the entire network. Event registrations can easily be managed in the backend, where a guest list is export with the click of a button.
Employers
With a global database of tourism, business and management professionals, it's no surprise that employers are keen to get in on the action. Our platform enables them to post jobs that are subjected to an automated moderation workflow.
Image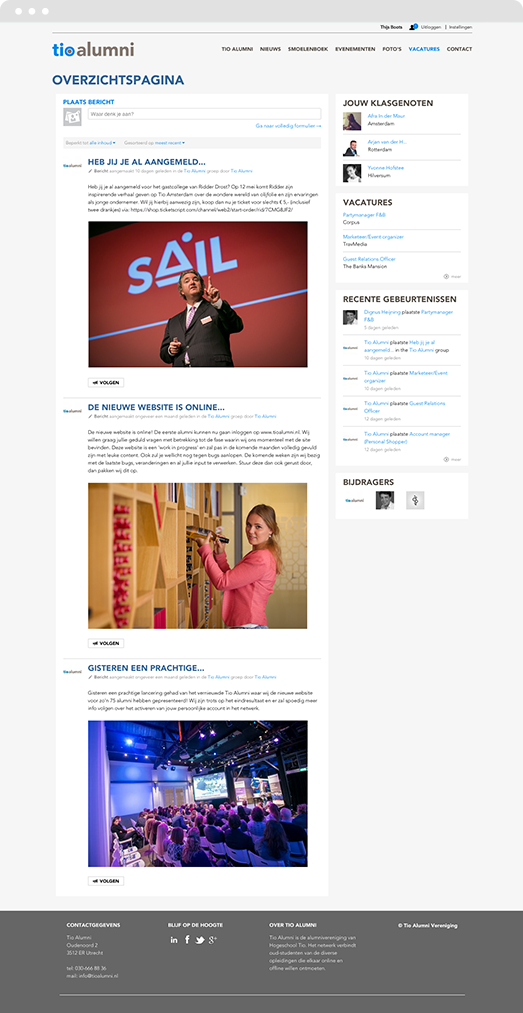 Image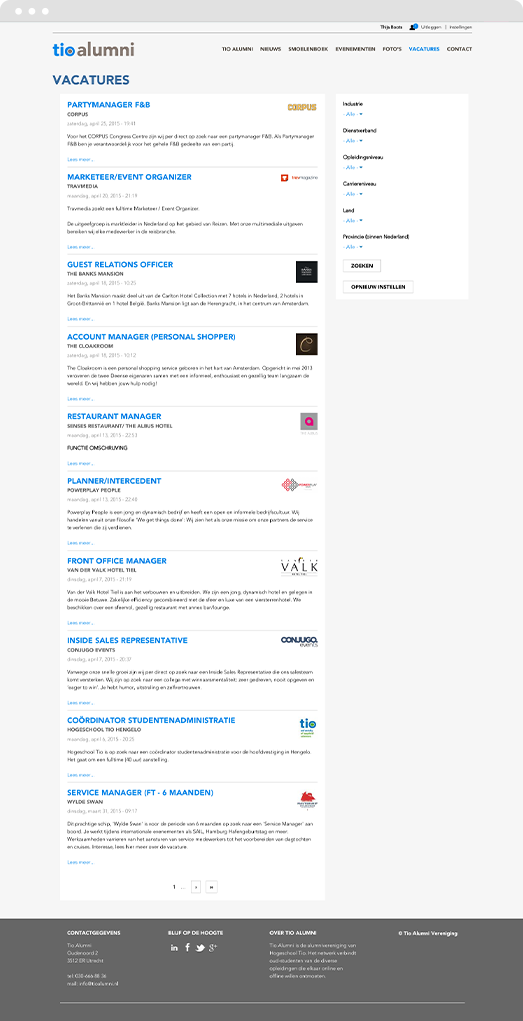 People directory
Alumni are encouraged to maintain an updated personal profile in order to help other alumni reconnect. Ofcourse, what they share is still totally up to them.
Image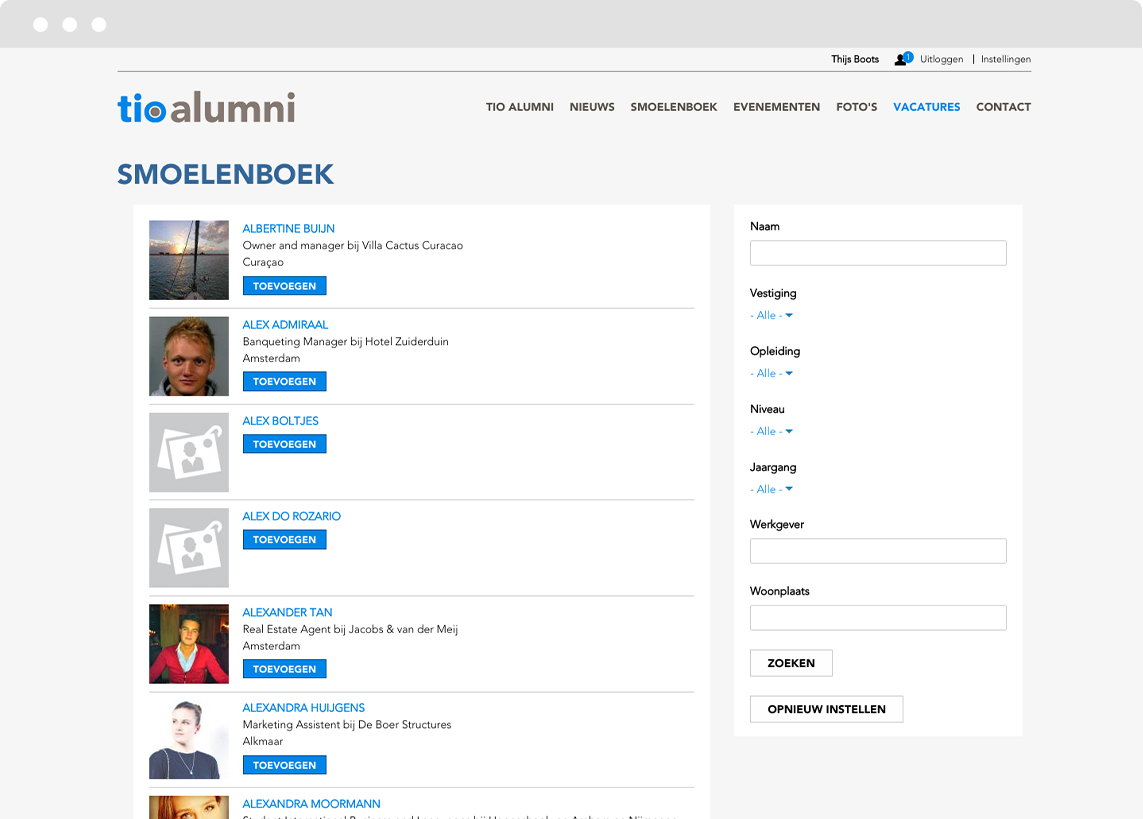 Solid infrastructure
With security and stability as two key requirements for this project, we invested considerable time researching technical architecture solutions to find a perfect fit for this client. We ended up applying a combination of tools and third party solution providers that enable us to host and maintain this platform according to enterprise-grade standards.