Free Press Unlimited
Information
A digital publishing platform that empowers Free Press Unlimited, an NGO active in 50 countries, in its mission to enable and support independent news and freedom of information for everyone.
Free Press Unlimited is on a mission to provide access to independent, reliable and timely information for everyone. They approached us to help achieve their goals by creating a brand new online platform that not only showcases their progress, but converts visitors into friends and supporters of their cause.
We created a powerful digital publishing platform with a streamlined editorial experience. The end result is a modern multilingual Drupal CMS website that inspires and engages audiences worldwide.
Image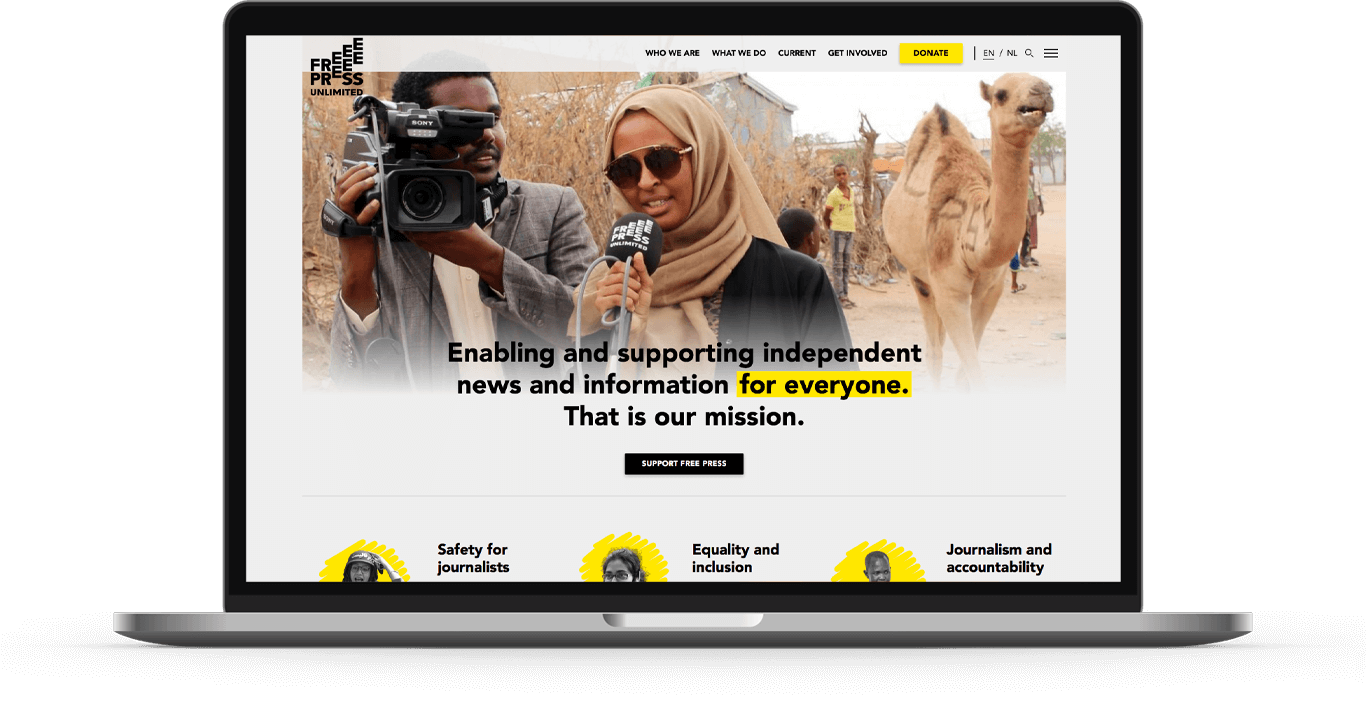 Streamlined
We leveraged the power of Drupal to create a powerful digital publishing platform that caters to an international audience. A streamlined editorial workflow, combined with cleverly linked relevant content, makes for an engaging experience for both author and visitor.
Structured
A clever use of content types, segments and taxonomy, results in a coherent online presence that perfectly reflects Free Press Unlimited's narrative.
 
Flexible
Drupal's powerful backend provides editors with all the tools to create extraordinary content, without compromising the rules of existing style guides.
Multilingual
With the advent of version 8 and 9, Drupal's abilities to manage multilingual content are simply second to none. Internationalisation is at the core of the very system.
Image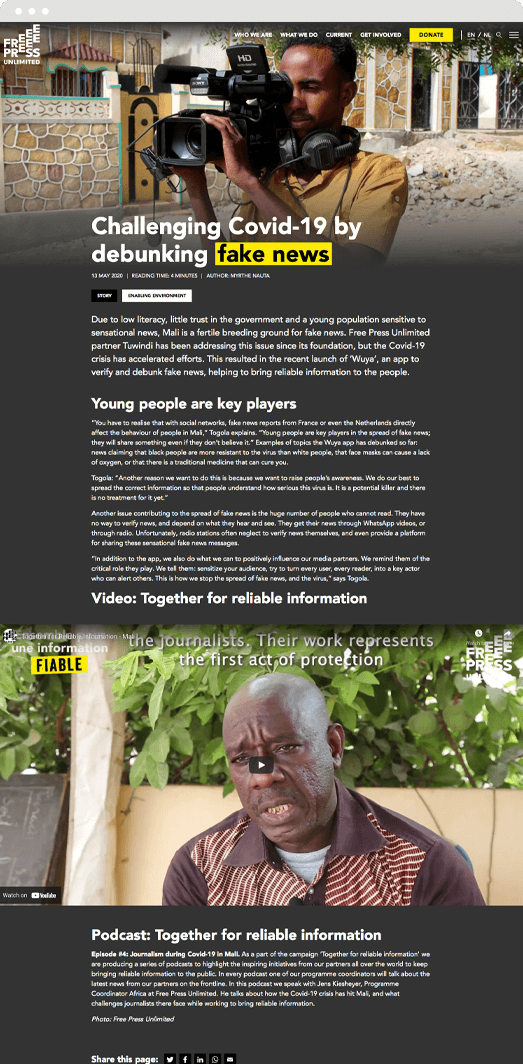 Image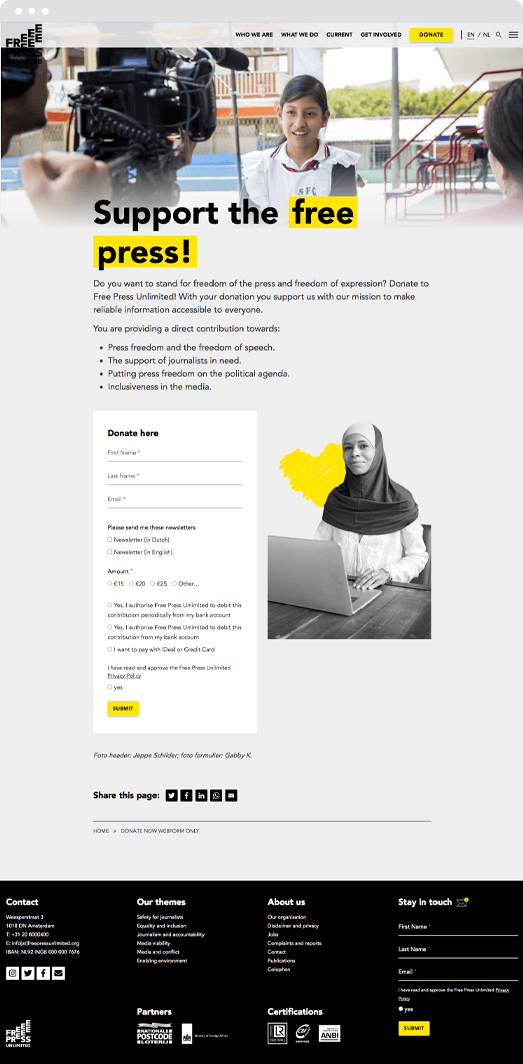 Worldwide impact
With projects in 50 countries, we were asked to come up with a visual tool that demonstrates the reach and impact Free Press Unlimited has. We built an interactive world map that lets users navigate through all countries impacted by their work.
Image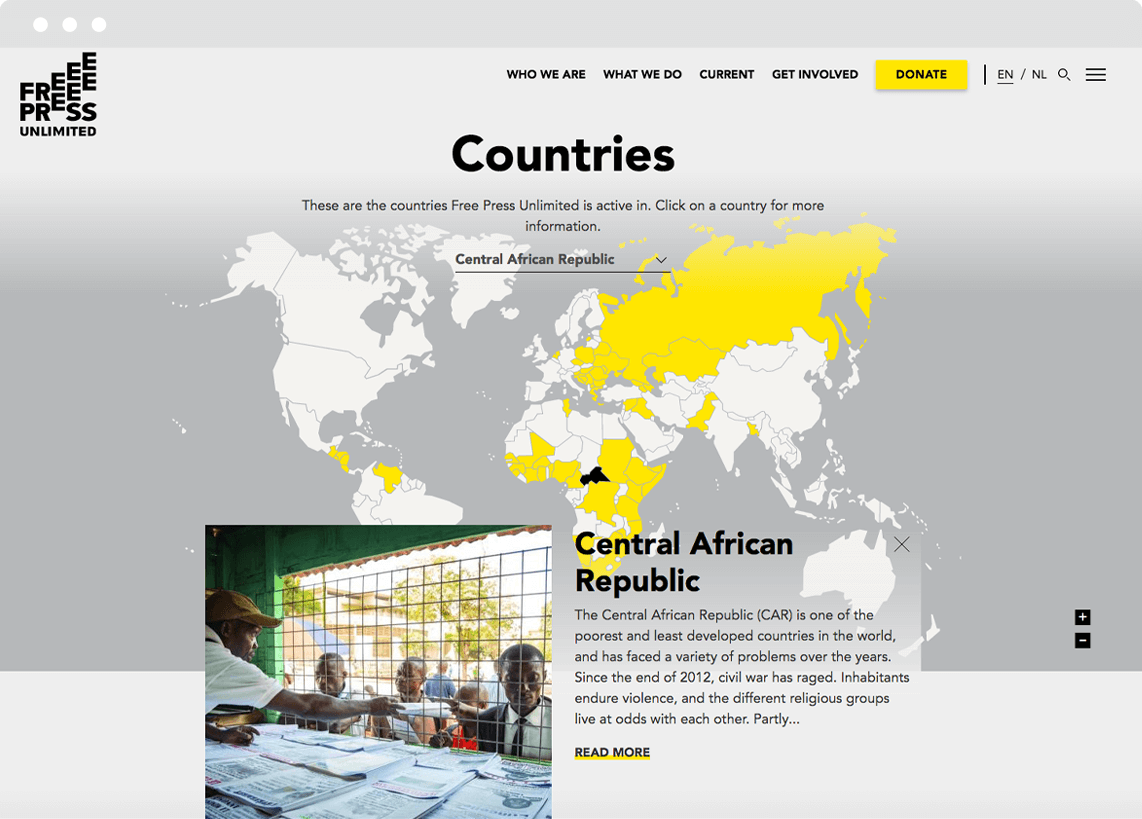 The power of Drupal
Having worked on Drupal websites for over 10 years, we are well aware of the platform's many qualities. Drupal is renowned for its reliable performance at scale and the perfect candidate for websites and applications where security is crucial. In combination with its vast ecosystem and extendibility, it offers a powerful toolset that sets it apart from its peers in terms of flexibility.
Flexible customization
A rich toolbox of page-building elements enables editors and webmasters to publish immersive content. They can create interactive landing pages quickly and without the need for development time or budget.
Smart data
Consistent and reliable data gathering is the key to good decision making. We made sure that Marketing and Fundraising know how their website is being used so they can tweak and optimise more intelligently for greater impact.
Unmatched security
Despite its age of 20 years, Drupal remains the leading name for secure open source content management. Its reputation for scalable, bulletproof security still makes it the number one choice for many major governments and NGOs around the world.